Amazingly, enough blueprints, scale models, prototypes and GP race cars survived the war to tell the tale. Here is a collection of photos of restored and reproduced cars. Most of them can be seen on display at the Porsche Museum in Porscheplatz, Stuttgart-Zuffenhausen, and the Autostadt and the Stiftung AutoMuseum Volkswagen in Wolfsburg, Land Niedersachsen.
1931 Adler-Ganz "Maikäfer", restored, Central Garage Automuseum in Bad Homburg, Hochtaunuskreis, Darmstadt, Hessen, Deutschland.
1931 Porsche Typ 7, replica, Porsche Museum.
1932 Porsche Typ 12, replica, Museum Industriekultur in Nürnberg.
1933 Porsche Typ 32 with the Reutter body, replica, Autostadt. The replica was reproduced in 1977 based on the one that was modified during the war. Interestingly, it is a Dutch car. It was reproduced in Zuidlaren, Drenthe, Netherlands.
1933 Tatra V570, replica, Technické Muzeum Tatra in Kopřivnice.
1936 Porsche Typ 60 V3/2, replica, Autostadt. The replica was reproduced in 2000 based on the blueprints that survived the war.
1937 Porsche Typ 60 VW30 unmodified model, replica, Autostadt.
1938 Porsche Typ 60 VW38/3 (car #3, pictured above), restored, Autostadt. It is one of only two surviving examples, and it is the oldest Volkswagen in existence. In 1940, during the war, the Typ 60 VW38/3 and several other VW38's and VW39's were brought to Berlin and modified with portal axles and wood gas generators. They were prototypes for the Porsche Typ 230, which went into production in 1942. The Typ 60 VW38/3 was later dismantled and only the body was stored away in a basement at the Volkswagen plant. The body was sold to a Kreiensen (Northeim, Niedersachsen) based VWW dealer who in turn had the automaker restore it to original condition using spare Typ 1 parts in 1952. The Typ 60 VW38/3 underwent a full restoration in 1990. It went through three engines and at least 500,000 km (310,000 mi) before landing in Autostadt.
There is another Typ 60 VW38 in existence: VW38/6 (car #6). It was brought by a Red Army soldier after the war. Many bizarre modifications were performed on the car. The backbone chassis was replaced with one from a GAZ-21 Volga, the front was fitted with a fake radiator grille, the rear split windscreen was replaced with a large rectangular one, the body was repainted many times and so on. The Typ 60 VW38/6 was abandoned in Lithuania during the 1980s. It was discovered by Christian Grundmann in 2003. With the help of Volkswagen, he had it undergo a full restoration using spare Typ 1 parts that were modified to resemble those of a Typ 60 VW38. It remains in Grundmann's private collection to this day. The Typ 60 VW38/6 usually makes a public appearance at Porsche and Volkswagen shows around Deutschland.
1939 Porsche Typ 60 VW39/4 (car #4), restored, Autostadt. It is the only surviving example. The Typ 60 VW39/4 was the car presented to Hitler for his fiftieth birthday. After the war, it was looted from an undisclosed location and went through six owners and at least 590,000 km (365,000 mi) before landing in Autostadt. Volkswagen had it undergo a full restoration.
1939 Porsche 60K10 body, replica, Porsche Museum. It was reproduced by Karosseriebau Drescher, a high profile German automotive restoration firm in Hinterzarten, Schwarzwald, Baden-Württemberg.
1939 Porsche Typ 80, partially restored, Mercedes-Benz Museum in Stuttgart-Bad Cannstatt, Despite today's technology, it was never reproduced to see if it can reach 600 km/h.
1940 Porsche Typ 82 Kübelwagen production models, restored, Autostadt and Stiftung AutoMuseum Volkswagen. Some Typ 82's are still in service in the German Army today.
1941 Porsche Typ 64, restored, Porsche Museum. It is the second Typ 64, which is the only surviving example. After Porsche's contract with Cisitalia ended, the car was reworked by Carozzeria Pininfarina S.p.A., an Italian coachbuilder in Cambiano, Turin, Piedmont, Italy. Some noticeable modifications are Typ 360-like grille and flush semaphores.
1942 Porsche Typ 166 Schwimmwagen production models, restored, Autostadt and Stiftung AutoMuseum Volkswagen.
1943 Porsche Typ 82/E production models, restored, Autostadt and Stiftung AutoMuseum Volkswagen.
1947 Porsche Typ 360, restored, Porsche Museum.
1947 Rapid-Ganz production model, replica, Verkehrshaus in Luzern, Switzerland.
1948 Porsche Typ 356 prototype, restored, Porsche Museum.
Two Auto Union Typ C's, one Typ C streamliner and three Typ D's, all replicas, Audi museum mobile in Ingolstadt, Oberbayern, Bayern. All manufacturers under Auto Union fell under the control of Soviet Union after the war. All GP race cars disappeared after being shipped off to Moscow, Russia, for research purposes.
Daimler-Benz was more fortunate with its GP race cars than Auto Union.
Two Mercedes-Benz W25's and one W25 streamliner, all restored, Mercedes-Benz Museum. There is a fourth W25, but it is being professionally restored as of April 2015.
Three Mercedes-Benz W125's and one W125 streamliner, all restored, one at the Cité de l'Automobile, Mulhouse, France, and the rest is at the Mercedes-Benz Museum. There is a fifth W125, but it is in the private collection of Bernie Ecclestone.
Seven Mercedes-Benz W154's, all restored, one at the Collier Museum in Naples, Florida, USA, two (one without a body) at the Cité de l'Automobile, one at the Deutsches Museum on an island in the Isar River near München, two (one streamliner) at the Mercedes-Benz Museum and one at the Národní technické muzeum in Holešovice, Prague, Czech Republic. It is believed there are four more W154's, but their whereabouts are unknown.
Note: It is believed there is a replica of the 1938 Porsche Typ 62 in a private collection of an unknown collector. Many restored and reproduced non-Volkswagen-based military vehicles (i.e. wood gas powered cars) can be seen on display at the Autostadt and the Stiftung AutoMuseum Volkswagen.
The following cars are long lost:
1930 Ardie-Ganz (destroyed on purpose in 1931)

1931 Mercedes-Benz 120H (destroyed on purpose)

1931 Porsche Typ 8 (destroyed during the Stuttgart air raids)

1931 Porsche Typ 9 (destroyed during the Stuttgart air raids)

1932 Porsche Typ 12 (cabriolet model, destroyed during the Stuttgart air raids)

1933 Standard Superior (Maikäfer-like prototype, destroyed on purpose)

1935 Porsche Typ 60 V1 (destroyed during the Stuttgart air raids)

1935 Porsche Typ 60 V2 (destroyed during the Stuttgart air raids)

1936 Porsche Typ 60 V3/1 (destroyed during the Stuttgart air raids)

1936 Porsche Typ 60 V3/2 (damaged during the Stuttgart air raids, later junked by American soldiers)

1936 Porsche Typ 60 V3/3 (damaged during the Stuttgart air raids, later junked by American soldiers)

1937 ERFIAG (its whereabouts are unknown)

1937 Porsche Typ 60 VW30's (destroyed on purpose)
1938 Porsche Typ 60 V303/801 (destroyed during the KdF-Stadt air raids)

1938 Porsche Typ 60 V303/802 (destroyed during the KdF-Stadt air raids)

1938 Porsche Typ 60 V303/803 (damaged during the KdF-Stadt air raids, later repaired by Hirst's unit in 1945, its whereabouts are unknown)

1938 Porsche Typ 60 VW38's (some were converted to military vehicles and later dismantled during the war and some were sold to civilians and soldiers after the war, most of them were either abandoned or junked)
1938 Porsche Typ 62 (its whereabouts are unknown)

1939 Porsche Typ 60 VW39's (some were converted to military vehicles and later dismantled during the war and some were sold to civilians and soldiers after the war, most of them were either abandoned or junked)
1939 Porsche Typ 64 (damaged and junked by American soldiers)
1939 Porsche Typ 82 (prototypes, their whereabouts are unknown)
1939 Porsche Typ 82B's (their whereabouts are unknown)
Here is a collection of interesting facts and finds that were stumbled upon during the research.
Hitler knew Dr. Porsche and Werlin since the early 1920s. One of the NSDAP headquarters, nicknamed Braunes Haus (Brown House), was located right next to a Benz & Cie. dealership in München. Werlin worked there as a dealer. Dr. Porsche worked for Benz & Cie. as a technical director at the time. Hitler, who was fascinated by the Typ RH, met the designer of the GP race car, Dr. Porsche, through Werlin.

"Hitler" got a speeding ticket in Ingolstadt on 19 September 1931. The ticket was dismissed because the ticketing officer didn't realise that Hitler's chauffeur, Julius Schreck, looked almost like him. Same haircut, moustache and all.

Hitler's speech at the 1933 Berlin IAMA was his second public speech as Chancellor of Deutschland.
When the Ermächtigungsgesetz went into effect, Hitler threw speed limits out the window for rural areas and existing motorways. However, during the war, he begrudgingly introduced a nationwide 40 km/h speed limit to conserve fuel. That's right, 40 km/h on the speed limitless Reichsautobahn.
When Hitler introduced the nationwide speed limit, one of the world's longest German words was used: Reichsgeschwindigkeitsbegrenzung (lit. Speed Limit of the German Empire).
Many sources exaggerated, claiming that Hitler himself drew his vision of the Volkswagen on a napkin, passed it to Dr. Porsche and asked him to build it. It is clearly untrue. The car in the drawing in question looks exactly like a Mercedes-Benz 130H. It is worth noting that Porsche submitted its Volkswagen study before the 1934 Berlin IAMA, where the 130H was unveiled, and before Dr. Porsche and Hitler met to discuss the development.
Some sources suggested that Hitler asked Porsche to develop economy tractors because he was a pro-vegetarian. It is worth noting that Hitler wore a Sam Browne belt, a wide belt that is supported by a narrower strap passing diagonally over the right shoulder. The belt is usually made of leather. The visor of his Schirmmütze (peaked cap) was made of leather as well.
Hitler always asked his chauffeur, Erich Kempka, to go fast. Later in the 1930s, road accidents were on the rise, and Hitler asked Kempka to go no faster than 55 km/h. When the nationwide speed limit was introduced, Kempka was asked to obey it.
Hitler liked to have the sun shine on him. Every car he owned was a cabriolet.
Hitler's armoured dark blue Mercedes-Benz 770 ,Großer' Cabriolet (Wo7) was powered by a front-mounted, water-cooled, supercharged 150 kW 7,7 L straight-eight engine. This 770 in particular was built specially for Hitler. It was equipped with seat heaters, foldable front passenger seat, so Hitler could stand up and salute, and gun compartments. The body was fitted with 18 mm thick steel panels and 40 mm thick windows. Despite the armoury, the roof was made of canvas. The roof was folded down most of the time, exposing the passengers. The entire car weighted a whopping 4,800 kg and it could cruise comfortably at 130 km/h. The 770 in question was restored and can be seen on display at the Canadian War Museum in Ottawa, Ontario, Canada.
Speaking of 770, it was the world's most expensive car during the 1930s and the early 1940s. All variations of the 770 (naturally aspirated and supercharged cabriolet and limousine models) weren't readily available for purchase. It could be built on request for the price starting at 47,000 RM (about $235,000 NZD in 2015 dollars). In comparison, the second most expensive car at the time, 1938 Mercedes-Benz 540K Autobahn-Kurierwagen, had a price tag of 24,000 RM (about $140,000 NZD in 2015 dollars). Historians believe that Hitler's armoured 770 had a price tag in the six-figure range.
Despite Hitler's loud support for the Grand Prix, the only race he attended was the 1938 Gran Premio di Tripoli (Tripoli Grand Prix) in Mellaha, Libia Italiana (Italian Libya), Africa. It was held on 15 Mai 1938 during Hitler's visit in Africa.
Hitler spent more time on the road than any world leaders today.
Hitler's personal photographer, Hugo Jaeger, took those colour photos of the Cornerstone Ceremony. He used Kodak Kodachrome colour slide film, which was introduced in 1935. Jaeger hid many rare colour photos of Hitler at major events from the Allies.
Hitler's motorcade always went through the Brandenburger Tor on Unter den Linden. On 13 August 1961, the Berlin Wall was erected, making it not possible to drive through the gate. It was not until März 1998, 9 years after the fall of the Berlin Wall, that motor vehicles were allowed to drive through the gate. Unfortunately, in 2002, the passage was permanently closed for motor vehicles for preservation reasons. If you drove through the gate during these four years, consider yourself lucky.
Many historians mistakenly referred to Hitler as the only Führer. Besides President Hindenburg, there were several predecessors since the beginning of the Deutsches Kaiserreich (German Empire), which started in 1871, the year Deutschland was founded.

During the 1920s, GP race cars were required to have a licence plate and a passenger.
It was normal for race drivers to exchange apologies during the 1920s and 1930s. Some race drivers were close friends with race drivers from rival teams. Sportsmanship was a thing back in the day.
During the 1920s and 1930s, winner of the race always split the prize money with other race drivers on the team. They don't do that nowadays.
During the Grand Prix seasons in the 1920s and 1930s, many race drivers were severely injured in accidents. Did their injuries stop them from racing? Nein. Caracciola, who suffered from a laundry list of irreparable injuries, continued racing until he retired in 1952. Nuvolari, who suffered a broken leg following a crash, had the pedals in his Maserati rearranged so he could use them all with his good leg. Today's race drivers are weaklings. They could be out of the race for weeks or months for minor, non-life threatening injuries like a headache.
Here is some basic information on the Typ RH. It was powered by a rear mid-mounted, naturally aspirated, water-cooled 70 kW 2,0 L straight-six engine. Only three examples were produced and they raced in only one race. They were entered in the 1923 Gran Premio d'Italia (Grand Prix of Italy) in Monza, Lombardy, Italy, on 9 September 1923. Two finished in fourth and fifth and the third retired due to a mechanical failure. Not bad considering they were the first rear mid-engine race cars. Benz & Cie. unveiled the Typ RH Concept at the 1921 Berlin IAMA. It was planned to go into limited production to meet the homologation requirements. However, since they raced in a single race, the plans were cancelled.
In 1926, Stuck won a literal trophy wife after beating Theodore Zichy in a race. Her name was Xenia, and they were married until her death in 1931.
Caracciola was the first race driver to win the first GP race on the newly opened Nürburgring on 19 Juni 1927.
Unlike Hitler, who used Grand Prix for its propaganda value, Mussolini was a strong supporter. He personally sponsored the Scuderia Ferrari team.
Auto Union GP race cars had fuel "economy" of a whopping 78 L/100 km (3 mpg).
Rosemeyer showed up and raced in a qualifying race in a formal suit when he was being recruited as a reserve driver for Auto Union in November 1934.

Rosemeyer and his wife arrived at the 1937 Großer Preis von Deutschland qualifying race by landing their biplane on the Nürburgring's Döttinger Höhe.
Caracciola's 432,69 km/h record on a public road has yet to be broken to this day (April 2015). The present day Autobahn has many restricted (speed-limited) sections. It is also constantly under construction with American car enthusaist tourists who think they can drive. Under these circumstances, it is too dangerous to attempt to break Caracciola's record.
After winning the 1938 European Grand Prix 250 cc Class motorcycle race at the Sachsenring racing circuit in Hohenstein-Ernstthal, Zwickau, DKW's motorcycle racer, Ewald Kluge, did a victory lap in the Typ 60 V303/803 chauffeured by Hühnlein. The winner of the 125 cc Class, Bernhard Petruschke, followed in the Typ 60 V303/802. It was the only time these prototypes were seen after the Cornerstone Ceremony.
If you think coal-rolling is bad for the environment, it's time to stop. Daimler-Benz's race cars for the 1939 Grand Prix season had a water-cooled 355 kW 2,9 L supercharged V12 engine. Here is an atmosphere-groaning fact: The engine ran on a highly toxic combination of acetone (8,8%), methanol (86%), nitrobenzene (4,4%) and sulphuric ether (0,8%). The toxic brew gave the engine fuel economy of a whopping 117 L / 100 km (2 mpg). Long term exposure can be fatal. Many race drivers were exposed to its toxicity and suffered health issues. Of course, it didn't stop them from racing.
Former Auto Union race driver Paul Pietsch was one of the founders of auto motor und sport. It is a popular German car enthusiast magazine that is still being printed today. It is only available in German language.
While developing the Typ 360 for Cisitalia, Karl Abarth fell in love and married Dr. Piësch's legal secretary, Maria. In 1949, Abarth moved to Italy, became an Italian citizen and had his name legally changed to Carlo. Yes, the Carlo Abarth. There, with the help of his wife, he started up his own performance car company, Abarth SpA.
You judged the photos correctly, GP race cars of the 1920s and 1930s were HUGE! Some "small" streamliners were longer than 6 m.
The AVUS track is part of the Bundesautobahn (Federal Motorway) 115 today.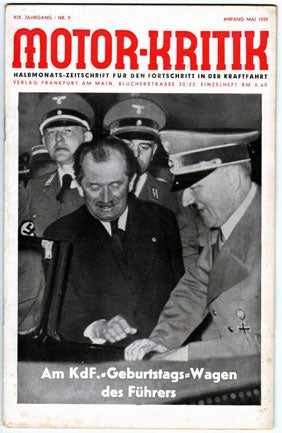 There was indeed a Motor Kritik issue with Dr. Porsche, Hitler and a KdF-Wagen on the front cover. The photo was taken on Hitler's birthday a month prior. The caption reads "Am KdF-Geburtstags-Wagen des Führers" ("KdF, the birthday car of the leader") So much for Ganz's longtime dream of developing the Volkswagen.
Many sources claimed that Hitler took interest in Ganz's Standard Superior after the NSKK reviewed it in 1933. However, due to Ganz's Jewish ethnicity, Hitler asked Dr. Porsche to develop his own version of the Superior. It is undoubtedly untrue because Porsche, as well as many other manufacturers, got involved when Hitler demanded a national economy car.
Ferry and Rosenberger's meet with Ganz remains a mystery to this day. No one came up with an explanation. It is safe to guess that Porsche was experimenting with the idea of using a small motorcycle engine in a full size car. The Typ 60 V1 and V2 used a wide variety of small engines.
Many sources claimed that the Gestapo attempted to arrest Ganz again during the Night of the Long Knives. It is untrue because the Gestapo and the SS were after SA leaders and political opponents. The massacre had nothing to do with Jewish troublemakers like Ganz. However, it caused many people to flee the country.
Stefan Mittler, a coworker at Ganz's first job at a chemical supplier, influenced him with automotive engineering.
Ganz was a photographer, and he took most of the photos of his prototypes.
Dr. Porsche's father, Anton, was a tinsmith, and he hated technology. In 1891, when he was away for business, the sixteen-year-old Ferdinand pulled a practical prank. He made lead acid batteries and installed electric lights in the family's home. Anton grudgingly admired his son's wisdom and helped him get a job at Bela Egger & Co., an electrical engineering company in Vienna. Thanks to his knowledge in electricity, Dr. Porsche took care of the electricity on many cars. He single-handedly installed electricity in the Volkswagen plant.
The "Ing. h.c." in Dr. Porsche's name stood for Ingenieur (Engineer) honoris causa (Latin for Honorary Degree). It remains the company's name today. His middle name was named after his father, Anton.
Porsche family houses and villas in Klieversberg, Stuttgart-Feuerbach and Zell am See were designed by Paul Bonatz.
At ten years old, Ferry received a miniature two-seater car, with an air-cooled 4,5 kW flat twin engine, for Christmas from his father. The family called the car Ziegenbockwagen (lit. Buck Goat Car). Ferry thought his father stuffed a goat inside the engine. Due to Dr. Porsche's wealth and fame, the local police never complained about the ten-year-old Ferry driving alone at 60 km/h on public roads. There weren't many cars at the time (1919).
Unlike his father, Ferry was heavily involved with art, fashion and photography. When he moved to Stuttgart and attended a secondary school, he quickly became popular because of his laughably outdated clothes. Most of the photos of Porsche's prototypes from the 1930s and 1940s were taken by Ferry.
At sixteen, Ferry was given a special driving permit from his father so he could test drive prototypes that were brought home. Ferry eventually became an official test driver for Porsche in 1931.
Dr. Porsche was all smiles around everyone except big name NSDAP officials.
Many sources claimed that Dr. Porsche and Ledwinka Sr. were best friends who shared ideas while developing the Typ 97 and the Volkswagen. It is true that Ledwinka Sr. and Dr. Porsche worked at Steyr-Werke AG, an Austrian automaker in Steyr, Oberösterreich, Austria, as a chief designer and a chief engineer. However, they never worked together at the same time. Ledwinka Sr. left the company for Tatra in 1921 and Dr. Porsche joined the company for a brief time in 1929. There is no evidence that they knew each other personally. Dr. Porsche and Komenda indeed worked together at Steyr-Werke.
During the war, Dr. Porsche was one of Hitler's right-hand men. He was exempt from the nationwide speed limit, and he used the Typ 64 as a high speed courier. He could travel from Stuttgart to Berlin in under five hours.

After Dr. Porsche, Ferry and Dr. Piëch were released from jail, the French government found them not guilty of war crimes. However, the bail money (1,500,000 Francs altogether) was never returned, so it turned out to be a ransom. It is unknown if Porsche and Piëch families sued the French government for false imprisonment.
Rabe was the keeper of project numbers, and humour was in his nature. He started Porsche's first project with the lucky number: Typ 7. Rabe started the next project, Typ 14, for Wanderer, purposefully skipping the unlucky number: Typ 13.
Here is an animated GIF demonstrating how torsion bar suspension works. Porsche ditched the technology many years ago, but Volkswagen is still using it today. Since Porsche has full ownership of Volkswagen and its subsidiaries, it continues to collect royalties.
Porsche's prototypes were usually built in threes. However, they weren't always completed and delivered at the same time.
One of the employees at NSU bought one of two Reutter-bodied Typ 32's and used it as a daily driver car. During the war, the car had its headlights flush into the front wings and bumpers replaced with wrap-around ones and was painted blue-grey. Presumably to make it look like a KdF-Wagen. The Typ 32 in question was left untouched during the war. It was traded in for a new Typ 1 in 1953. Its current whereabouts are unknown.
In 1934, Auto Union expressed interest in developing a supercar with a detuned, supercharged 4,4 L V16 engine based on the one for the Typ A. Porsche began the Porsche Typ 52 study. The driver would be seated in the centre with a fold-down seat for a passenger on each side. The 150 kW engine would be mounted in front of the rear swing axles. It was estimated that the Typ 52 could reach 200 km/h. Due to the lack of funds, it never left the drawing board. Many design elements appeared on the Typ 64.
Sixty-six years later, in 2000, the Typ 52 was born under the name of Audi Rosemeyer Concept. The polished aluminium supercar has a rear mid-mounted 520 kW 8 L W16 engine that can propel the car to 350 km/h. Sadly, it never went into production. It can be seen on display at the Audi museum mobile.
It is believed that the world's fastest and most expensive Volkswagen New Beetle, Bugatti Veyron EB 16,4, was evolved from the Audi Rosemeyer Concept.
Many sources claimed that the Soviet Union dictator, Joseph Stalin, offered Porsche and HFB luxurious expenses in exchange for developing GP race cars for Gorkovsky Avtomobilny Zavod, GAZ for short, a Russian automaker in Nizhny Novgorod, Nizhny Novgorod Oblast, Russia. It is untrue because race organisers were under NSDAP supervision, so naturally, Soviet Union was not welcome. Ironically, Soviet Union got their hands on the Porsche- and HFB-developed Auto Union GP race cars after the war.
Ferry single-handedly saved HFB during its Typ 22 development. The steel crankshaft in the massive V16 engine constantly turned blue. Ferry explained that it was caused by friction, but the engineers expressed doubts. He constructed a narrower forged steel camshaft. Much to the engineers' surprise, Ferry's camshaft had less friction and was successful. He was only 24 at the time.
When Porsche was commissioned to develop the Volkswagen, two properties next to the Porsche family villa in Stuttgart-Feuerbach were purchased for a garage extension.
Originally, Porsche Typ 60 was called Porsche VW60.
Mickl spent many hours wind testing Volkswagen prototypes. He experimented with various streamlined elements that would improve the aerodynamics and fuel economy. The Typ 60 V303 almost had enclosed wheel wells and a full belly pan. Porsche liked the ideas, but had to abandon it due to high manufacturing costs and difficulty to access parts to repair or replace.
KdF-Wagen production cars weighted 663 kg, approximately 13 kg heavier than Porsche's specifications in its Volkswagen study from 1934.
There is virtually no information on KdF-Wagen's performance. As an owner of a 1947 Volkswagen Typ 1, which is no different from the KdF-Wagen, it takes ~23,6 seconds to reach 100 km/h from a standstill. My husband, my son and I did several runs on an empty motorway with a 100 km/h speed limit. Our beloved Typ 1 is so slow that my son joked about reading and finishing a chapter in a Percy Jackson book before it could reach 100 km/h.
Porsche's Volkswagen prototypes didn't have badges. They went by lengthy code names and licence plates. Some cars used temporary licence plates and others used the same chassis, which is incredibly confusing:
Porsche Typ 60 V1: IIIA-0426
Porsche Typ 60 V2: IIIA-0427
Porsche Typ 60 V3/1: IIIA-0428 then IIIA-34990
Porsche Typ 60 V3/2 had its licence plates swapped multiple times from IIIA-0426, IIIA-0427, IIIA-0428, IIIA-34991 and finally IIIA-37010.
Porsche Typ 60 V3/3: IIIA-0427 then IIIA-34992
Porsche Typ 60 V4: IIIA-37000
Porsche Typ 60 VW30: IIIA-37001 to IIIA-37030
Porsche Typ 60 VW30 (cabriolet): IIIA-37022 (formerly a limousine)

Porsche Typ 60 V303 fibreglass mockup: IIIA-0426 then IIIA-34991
Porsche Typ 60 V303/801: IIIA-42801
Porsche Typ 60 V303/802: IIIA-42802
Porsche Typ 60 V303/803: IIIA-42803
Porsche Typ 60 VW38: IIIA-43001 to IIIA-43027
Porsche Typ 60 VW38/VW39 hybrid: IIIA-43027 then IIIA-0427
Porsche Typ 60 VW39: IIIA-0427 (formerly IIIA-43027) to IIIA-43044
Porsche was in the process of modifying a Typ 60 VW39 with a ramp as a test mule for handicapped access. The modification was cancelled when NSDAP physicians started the euthanasia programme in autumn 1939. Many handicapped people were euthanised.
Some German automakers offered left hand drive and right hand drive versions of their cars. Porsche was in the process of developing a right hand drive version of the KdF-Wagen. The development was shelved when the KdF-Wagen production ended in 1944.
Porsche developed a W24 engine—that's right, twenty-four cylinders—during the early stages of the Typ 80 development. It was later replaced with the DB-601 inverted V12 engine, which was lighter and more reliable with better power output.
The world's fastest plane, Lockheed SR-71, was nicknamed after the Typ 80.
At 0,5 mm, the 60K10 bodies for the two Typ 64's were as thick as five sheets of printing paper.
Porsche developed a turbocharger for the KdF-Wagen. However, it was never offered as an option due to high manufacturing costs.

Before Porsche was evacuated to Gmünd, Komenda and Mickl were responsible for the design of the V-1.
During the war, Porsche developed a Sturmboot (Storm Boat, a small assault boat) that was powered by a 985 cc engine from a Typ 60 VW38. It is unknown if it went into production.
Not only did Porsche work with automotive engineering, but also aerospace engineering. The firm was partially involved in the development of the third prototype of the world's first flying wing stealth bomber, Horten H.IX, more commonly known as the Ho-229. Unfortunately, it was still in the prototype stage when it was captured before the end of the war. Naturally, the United States Army stole the plane, designs and blueprints as war souvenirs. After years of reverse-engineering, the Ho-229 went into production in 1997 as the Northrop B-2 Sprint. The Ho-229 V3 pictured above is the only surviving example, and it is being restored at the Smithsonian Institute's National Air and Space Museum in Washington, District of Columbia, Maryland, USA.
When the Porsche family moved to Zell am See during the war, the first Typ 64 (licence plate number IIIA-0703), along with other prototypes, was hidden away at a flying school nearby. When a United States Army unit was sent to arrest Dr. Porsche, the soldiers combed the area and found the Typ 64. They tried and failed to turn it into a cabriolet by cutting a hole in the roof. They drove it recklessly until the engine gave away due to negligence, but the abuse didn't end there. They heartlessly junked it and moved on. The second Typ 64 (licence plate number IIIA-0687 then IIIA-0701), which was left untouched by the British Army at the sawmill in Gmünd, is the only surviving example today.
Many sources argued over which Allied force found the Typ 64 (licence plate number IIIA-0703) first. They mistakenly used the information based on a map of Austria with Allied-occupied zones. The Typ 64 was found on 5 Mai 1945, the day Dr. Porsche was arrested. The zones weren't established until 9 Juli 1945. In other words, the Allied forces—mainly France, United Kingdom and United States—were all over Austria at the same time when the Typ 64 was found. A United States Army unit was the first to find it.
After the war and before Porsche started its Typ 356 development. Porsche developed various farming equipments and vehicles such as tractors, tractor accessories and parts, towing winches, turbines... and wheelbarrows. Porsche wheelbarrows! Off to eBay!
When Porsche started exporting Typ 356's to the United States, the cars were exhibited at the Hoffman Auto Showroom at 430 Park Avenue in New York City. The showcase was designed by Frank Lloyd Wright, an American architect famously known for the Guggenheim Museum in New York City and the Fallingwater in Mill Run, Pennsylvania, USA. Sadly, the futuristic showroom was demolished in the late 1950s.
The Porsche family is still running Porsche and Volkswagen to this day. Dr. Wolfgang Porsche, the youngest son of Ferry and Dodo, is the chair of board of supervisors at Porsche Automobil Holding SE and the board member of Volkswagen. Dr. Ferdinand Piëch, the son of Dr. Piëch Sr. and Louise, used to be the chair of board of supervisors at Volkswagen. Due to his aggressiveness and history of sacking Volkswagen CEOs, his attempt to sack Martin Winterkorn backfired. Dr. Piëch was forced to resign from his position on 25 April 2015.
Many car enthusiasts mistook Porsche for having German roots. It is an Austrian company headquartered in Stuttgart and its cars are built there.
With today's inflation (April 2015), 990 RM is equivalent to about:
$5,635 (NZD)

$5,215 (AUD)
€3,725

£2,685

$5,050 (CAD)

¥503,400
$4,225 (USD)

The entire GEZUVOR programme cost the DAF a whopping 215 million Reichmarks (about 1,32 billion NZD in 2015 dollars) to establish. The funds came from union assets that were seised shortly after the NSDAP takeover in 1933.

Peter Koller, the city developer of KdF-Stadt, almost named the settlement Wolf after Hitler and the Wolf Castle nearby. The Stadt des KdF-Wagens bei Fallersleben name was selected for its propaganda value.

Porschewerk GmbH was one of the names DAF came up with for the new automaker that would one day be known as Volkswagenwerk GmbH. Shortly after KdF-Stadt was renamed, Volkswagenwerk GmbH was temporarily renamed Wolf-Werke GmbH. Hmm, Wolf-Werke Phaeton, anyone?
Despite the overhyped Cornerstone Ceremony at the Volkswagen plant in Fallersleben, the plant wasn't the first. Vorwerk was the first Volkswagen plant, and it was constructed immediately after the GEZUVOR programme was established in 1937. It was and still is located in Braunschweig, Braunschweig, Deutschland, 35 km (20 mi) southwest of the plant in Fallersleben. The plant in Braunschweig went into operation in Februar 1938, producing parts for the KdF-Wagen and VWW-produced military vehicles. Unlike the plant in Fallersleben, it was never attacked by air raids during the war.
Shortly after the Cornerstone Ceremony, ESEM produced small stamped steel models of the KdF-Wagen. They were sold under the brand name VOLK. My son has one of these.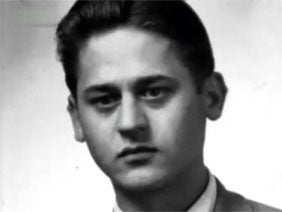 Robert Hauptmann, a 15-year-old Hitlerjugend cadet, was the first and the youngest apprentice to work at the Volkswagen plant. His fate is unknown.

Originally, the KdF-Wagen would be available in any colour as long as it was Blaugrau. The ideology was derived from Ford Model T, which was available in any colour as long as it was black. When the KdF-Wagen went into production in 1941, the single colour option was switched to black due to the rationing of the Blaugrau paint. Many Volkswagen historians didn't realise that Blaugrau was the colour of the Kriegsmarine. Kriegsmarine needed the paint for its boats and submarines.
Interestingly, before the cornerstone was laid, it was never photographed up close. According to my great grandparents, grandfather and his brothers, who attended the Cornerstone Ceremony, it had a similar design as the stamp used in KdF-Wagen Sparkarte.
In September 1938, New York Times, a major American newspaper company, called the KdF-Wagen "Beetle."
Many Volkswagen enthusiasts and historians mistook the "KdF-Wagen" cabriolet that was presented to Hitler for his fiftieth birthday for the Typ 60 VW38/31 (car #31). There were only twenty-seven examples of the Typ 60 VW38. The car was actually a Typ 60 VW39/4 (car #4).
Generalfeldmarschall (general field marshall) Erwin ,Wüstenfuchs' ('Desert Fox') Rommel is the greatest general the world has seen and he was a big KdF-Wagen enthusiast. He was once in the possession of a KdF-Wagen saloon with a roll-back sunroof. Four Typ 82/E's were built specifically for him. Rommel put in the largest order for thousands of Typ 82's and Typ 87's.
ABP was and still is an American company. When ABP started producing Typ 82 bodies, the company's chief engineer was Joseph Ledwinka, a relative of the Ledwinkas. ABP also produced jerrycans (flat sided metal container for storing fuel) for VWW-produced military vehicles.
Kremmer, an innocent man and one of the architects behind the Volkswagen plant, was killed at the BDA headquarter in Berlin-Grunewald during one of many unnecessary Allied air raids in 1945.

The Volkswagen company we have today almost didn't exist after the war. Soviet Union front was only 16 km (10 mi) east of the Volkswagen plant. If the Red Army arrived first, VWW could be dissolved in a matter of years like many Russian automakers during the Soviet Union era.
GAZ 64 and Willys Jeep were so unreliable that many Allied forces ditched them in favour of VWW-produced military vehicles. The Typ 82 Kübelwagen and the Typ 166 Schwimmwagen were very popular among the Allied soldiers. Some of them were taken home as souvenirs.
For a limited time in 1961, VWW gave a 600 DM discount to people who paid for a KdF-Wagen in full through KdF-Wagen Sparkarte. At least 350,000 people got discounted Typ 1's.
After the war, the sue-happy Tatra filed multiple lawsuits against VWW again. This time the court battle dragged on for almost a decade. VWW was faced with lawsuits for infringement of patents, copyright infringement, damages, compensation and so on. Tatra alleged that VWW copied the design of the V570 prototype and used its patents for the backbone chassis for the Typ 1. VWW lawyers pointed out that the V570 was developed in secret, making it impossible to copy, and that many automakers used backbone chassis before the Typ 1 arrived. Most of the lawsuits were dropped for two reasons. Since the V570 never went into production, the infringement lawsuits became a case of patent-trolling (third party company's desperate attempts to collect royalties from a first party company in which manufactures and markets the product). Also, VWW wasn't responsible for damages caused by the NSDAP. The court battle ended in 1961 when VWW paid Tatra a mere 3,000,000 DM (Deutschmark, German currency of the time) for compensation. It was considered pocket change to VWW at the time. Unfortunately for Tatra, the company used up most of the money to pay its legal fees. Today, Volkswagen is the largest automaker in the world and Tatra is a doomed truck manufacturer that most people have never heard of.
That wasn't the first time VWW became a victim of patent-trolling. In 1953, a well known Austrian car designer and engineer, Béla Barényi, filed a patent infringement lawsuit. Alleging that VWW designed the Typ 1 according to his patents. Of course, Barényi lost the case.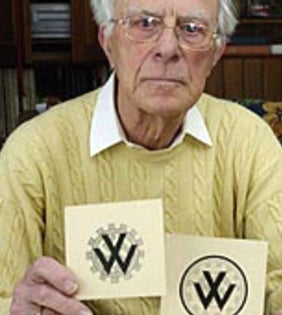 Speaking of patent-trolling... Nikolai Borg filed multiple lawsuits against Volkswagenwerk GmbH and present day Volkswagen AG. Alleging that VWW stole his design for the second VWW logo. The pointless court battle dragged on for over fifty years! The lawyers repeatedly pointed out that Porsche held a closed-door design competition within its design department, which consisted of only four people, and that the second VWW logo already had design elements from Reimspieß's first logo. Borg never won the case. Not once. A judge finally ordered him to stop patent-trolling in 2005. "I want to be recognised" was his one and only goal.
VWW bought two companies that contracted Porsche: Auto Union (including Audi, DKW, Horch and Wanderer) and NSU. Volkswagen eventually bought Porsche AG in 2012, but Porsche Automobil Holding SE still owns Volkswagen (including Audi (99% ownership), Bentley, Bugatti, Ducati, Lamborghini, MAN (75% ownership), Scania, SEAT and Škoda) to this day.
Volkswagenwerk GmbH changed its name and legal entity to Volkswagen AG in 1985.
Volkswagen has been the leading automaker worldwide for many decades. Fiat, Ford and GM and foreign governments still regret turning down the offer to buy VWW after the war to this day.
Many Volkswagen enthusiasts and historians didn't realise that the company's logo consists of three letters, V, W and, when combined, W for VolksWagenWerk. It is unknown why the company logo didn't get a full redesign when VWW changed its name in 1985.
Many Volkswagen enthusiasts and historians mistook Geländekäfer (All-Terrain Beetle) for a Porsche prototype. The word was used by the British Army for Käfer-bodied Typ 82's and Typ 87's (i.e. Typ 82/E, Typ 87/7, etc.). The term is used to refer to Baja Bug today.
Don't waste your money! There are many, many fake Cornerstone Ceremony pins on the Internet. Only 2,000 of the original Bakelite (brittle-like plastic) pins were given away at the event. They are worth hundreds of dollars today. If you find one selling for less than a hundred dollars, make sure it is plastic, has "B.H. MAYER" and "Pforzheim" marked on the back and weighs no more than 3 grams. If it is metal with or without markings on the back or it looks nothing like the pin pictured above, it is a fake. The pin in the photo is a real one and it was sold for $550 NZD. The text on the front reads "Grundsteinlegung des Volkswagenwerkes Mai 1938" ("Cornerstone Ceremony of the Volkswagen Plant May 1938"). Luckily for my son who is a Käfer enthusiast, he has one of these. He got it from my grandfather, who attended the event.
Originally, NSU stood for Neckarsulm Strickmaschinen Union (Neckarsulm Knitting Machines Union). The company produced sewing machines during the late 1800s. When the production was switched to motor vehicles, the company was renamed NSU Motorenwerke AG.
Originally, Zündapp was called Zünder- und Apparatebau (Fuse and Apparatus Construction) GmbH. The company produced detonators and explosives during the First World War. It was renamed Zündapp when the company switched its production to motor vehicles after the war.
There is no such thing as "Third Reich", a bilingual phrase. It is either "Drittes Reich" (German) or "Third German Empire" (English, literally).
There is no such thing as "Nazi", either. NSDAP members never called themselves Nazis. The Allies were too lazy to pronounce "Nationalsozialistische Deutsche Arbeiterpartei" or "National Socialist German Workers' Party", so naturally they shortened it to "Nazi".
Many sources exaggerated, claiming that Dr. Porsche, Henry Ford, Ford Model T and Volkswagen were mentioned in Mein Kampf (My Struggle) by Adolf Hitler. It is one of my all-time favourite books. Naturally, I read it many, many times. Both English and German versions. None of these were mentioned in the book.
During the 1920s, 1930s and 1940s, prototypes were never camouflaged. In fact, they were painted in attractive colours.
Many sections of the original Reichsautobahn still exist today in Austria, Deutschland and Poland.
Göring was a proud owner of an armoured pearlescent blue Mercedes-Benz 540K Cabriolet B, pearlescent white Mercedes-Benz 710 SSK—one of only five road-going examples—and an armoured pearlescent blue Mercedes-Benz 770 Cabriolet. Quite a collection indeed.
Speaking of Göring, after test driving a KdF-Wagen cabriolet (Typ 60 VW39 with 60K9 body), he turned down the offer to keep it. It is unclear why. Ley later accepted the offer.
When Tatra was developing the V570, Ledwinka Sr. had to file dozens of patents for the engine cooling system... Alone. Most of them were never used. It's no wonder Tatra was broke and tried to get some money from VWW.
Hitler's chauffeur, Kempka, who was an SS member from Poland with a, believe it or not, Jewish background, chauffeured Hitler for eleven years. They knew a lot more about each other than anyone else.
When Porsche moved to Stuttgart-Zuffenhausen, it became Reutter's next door neighbour.
The Typ 77 had a subframe in the back. The engine, transmission, suspension and rear subframe were built as one unit. If the car was experiencing a problem, a Tatra mechanic could pull out the entire rear transaxle without taking the car apart.
The famous ocean liner, RMS Titanic, docked in Cherbourg before it sank in 1912.
T.S. Bremen docked in Bremerhaven, Provinz Hannover, Deutschland. It made a stop in Cherbourg en route to New York City. It is unclear why Dr. Porsche and Kaes had to board the ship in Cherbourg. It is possible they visited Rosenberger, who lived in France at the time, before boarding the ship.
Daimler-Benz wasn't too thrilled about being dragged into the GEZUVOR programme. The automaker feared that producing dirt cheap Volkswagen prototypes would destroy its reputation of producing luxury cars. The GEZUVOR involvement was entirely erased from Daimler-Benz's history. The Mercedes-Benz Museum didn't mention a word about it today.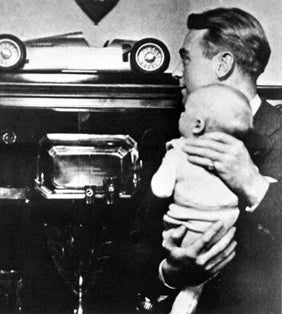 Bernd Rosemeyer Jr. was born on 12 November 1937, just 10 weeks before his father passed away. Nuvolari became Rosemeyer Jr.'s godfather. Rosemeyer Jr. is a doctor, so he isn't as famous as his father.
The NSDAP officials loved the Tatra Typ 87 so much that some of them were killed during a test drive on the Reichsautobahn. The NSKK issued an order to the NSDAP to stop toying around in that specific car.
At the 1939 Presseball (Press Ball, a formal event), Elsa Ellinghausen won the lottery and received a Porsche Typ 60 VW38 (licence plate number IIIA-37021) as a "prize". Unfortunately for her, it was for propaganda purposes only. Heinrich George, a German actor, received the same "prize".
When wood gas powered military vehicles (i.e. Porsche Typ 230 and Typ 283) went into production, German-occupied France suffered the worst case of deforestation.
Járay was a zeppelin designer and aerodynamicist before he joined the automotive industry. During his career in Deutschland, he designed many streamlined prototypes and production cars. He had an access to wind tunnel facilities to test his aerodynamic designs. Unfortunately for Járay, he had to flee to Switzerland because of his Jewish ethnicity.
Speaking of zeppelins, 60K10 bodies for the two Typ 64's were constructed with Duraluminium, the same lightweight alloy used to construct zeppelins.
Tatra made the mistake of relying on Russian automakers for competition. Following the fall of the Eastern Bloc in 1989, European automakers raided Czechoslovakia, bringing Tatra to its knees. Tatra's cars were so outdated that the company was forced to switch to truck production.
Despite having been remarried, Elly was buried in 2007 next to her first husband, Bernd Rosemeyer Sr, at the former AVUS track.
Here is a collection of photos that didn't take part in the documentary. There is a light caption under each photo.
Video: Karlsbader Reise. Im Volkswagen auf Goethes Spuren von Weimar nach Karlsbad, a 1940 short propaganda film featuring a Typ 60 VW38