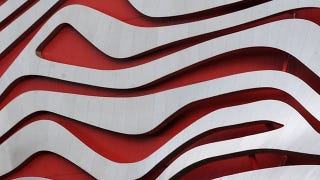 After crawling up US Route 101 in the Santa Monica Mountains in an immense rented Chevrolet Tahoe, my family, my sons' close friend and I made it to the Petersen Automotive Museum. The futuristic former department store that housed the museum is history. Now the museum is bright red and encased in stainless steel ribbons. We were eager to see what was inside.
The commentary was done by my sons and their close friend.
1976 Chevrolet Aerovette — The mid-engined, gull-winged Corvette that never was. A mid-engine successor to the Corvette C3 was under consideration. The engineers at GM dusted off the 1973 Chevrolet Corvette Four Rotor (XP-895), replaced its double rotary engine with a transversally mounted 6,5 L V8, renamed it Aerovette and called it a day. The Aerovette was proven to be successful and was given the green light for production. The Aerovette would cost as much as a new Corvette C3. However, GM scrapped the plans at the last minute amid fears it wouldn't sell well. Boy, were they wrong. That fear continues to exist to this day. Now people have to put up with the disfigured love child of an orgy between a Nissan GT-R, a Ferrari 599XX, a SRT Viper, a Pontiac Aztek, Peter Griffin, Bender and a horseshoe crab.
"It's so simple. I wish sports cars looked like this," Nakita said.
"Kill the GMC brand and put it into production, duh," Dieter said.
Vanya nodded in approval.
1955 Chevrolet Biscayne (XP-37) — The Motorama show car overjoyed to be back. The Biscayne was completely drivable, but it didn't save the car from being mercilessly destroyed by order. What was left of the Biscayne was found at a wrecking yard in 1990 and restored to running condition in 2005. The show car, whose face is frozen in a gleeful smile, has a fibreglass body and front- and rear-hinged doors that require no centre pillar to support the roof. The plexiglass windscreen is swept over the driver's head to form part of the roof. The front seats can be swiveled to allow easier entry and exit. With seats like these, it is not recommend to drive the car on a twisty road. Not only was the Biscayne used for styling exercises, it was also used as a testbed for the new 160 kW 4,3 L V8. Some of its design elements found their way into the MY1961-1962 Chevrolet Corvette C1 and the Corvette C2. Most notably, the four round taillights, which appeared on every Corvette until the Corvette C6. The ill-favoured Corvette C7 features Chevrolet Camaro-like taillights because the Pontiac Aztek designer—yes, yes, that's right, Tom Peters designed the Corvette C7 and the seventh generation Camaro—thought they were remarkable.
"It reminds me of Edgar when he pulls his whole face in Men in Black," Nakita said, grinning. "There, is that better?"
We all laughed.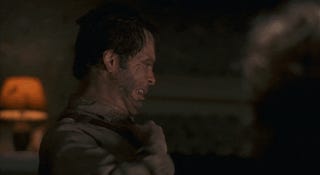 "Windscreens like that are begging for skin cancer on the scalp," Dieter said.
Vanya shook his head dismissively.
Unfortunately, that's that for concept cars. There were numerous concept cars the last time Ivan and I visited the museum in 2007. The following concept cars are all but disappeared:
1955 Lincoln Futura-turned-Batmobile

1955 Mercury D-528 Beldone
1959 Chevrolet Corvette Stingray (XP-87)

1963 Chrysler Turbine Car

1987 Oldsmobile Aerotech

1987 GM Sunraycer

1988 Pontiac Banshee

1995 Dodge Venom

1998 Jaguar XK180

We were gutted to learn that the Petersen Automotive Museum Foundation had them and other cars auctioned off to fund the renovation of the museum. :(
Herbie (1963 Volkswagen Typ 1) — Match.com demon of the 1960s. It was featured in The Love Bug. At one point in its life, every part in the car had a mind and heart of its own. It's creepy because the seats could feel people up. It liked to have people inside it. Herbie's minuscule 25 kW 1,2 L flat four engine didn't stop it from having a strong dedication to racing. In its spare time, Herbie was a matchmaker capable of hooking people up. Following a botched vomit inducing exorcism, Herbie accidentally had its soul sucked out.
"Ta-da! I've seen my first Typ 1 in America," Nakita said cheerfully.
"Thank goodness the Typ 1 from Herbie: Fully Loaded isn't here," Dieter said.
Vanya grimaced in agreement.
Time Machine (1981 DeLorean DMC-12) — Bringer of shame to innovation. It was featured in the Back to the Future franchise. Developed by Dr. Brown himself, the all-stainless steel, gull-winged time machine puts everything Tesla has to offer to shame. It is powered by Mr. Fusion Home Energy Reactor—a plutonium reactor no larger than a rubbish bin that generates 1,21 jigowatts. No one other than Dr. Brown managed to cram the equivalent of three nuclear power plants into a car. The time machine requires to reach the velocity of 141 km/h (88 mph) in order to enter the space time continuum. If the traffic is abhorrent or the time machine is unable to reach the necessary velocity due to poor road conditions, the vehicle can hover above the ground at the flick of a switch. The operator can travel to the past or to the future. See the dinosaurs, buy 100 shares in Microsoft, predict winning lottery numbers and warn the future of Trump's presidency. Anything is possible with this vehicle. The time machine can seat eight, and the operator can time travel with family, friends and/or pets. It can be operated with a remote control. It is believed Dr. Brown's remote control malfunctioned. The time machine, which was set for 2017, was driving itself into the space time continuum when the malfunction occurred. Engineers were unable to reverse-engineer the vehicle and abandoned it.
"If you can time travel to the past, what vehicle would you bring back?" I asked the boys.
"I want to time travel to 1934 and dig up the BMW R7 that BMW buried," Nakita answered.
"I would go to 1943 and buy a [Porsche] Typ 82/E in army camouflage," Dieter answered.
"You would like to travel to the 1980s to buy a Lada VFTS, right?" I asked Vanya and he nodded.

1954 Volkswagen Typ 2 T1 Kombi — Hippie wagon for non-millennial hippies. Thanks to Kombi's, short for Kombinationskraftwagen or literally multi-purpose vehicle, ability to transform into passenger or commercial vehicle, it was and still is used for various purposes. Mobile crackhouse or claustrophobic motel room for one-night stand, camping, transporting goods, band equipment, wacky backy or blackout drunk friends, you name it. The workhorse that put war-torn Deutschland back on its feet is powered by the same engine found in the earliest postwar Typ 1: 18 kW 1,1 L flat four. Typ 2 T1 is now regarded as a collector's car. In the 1990s, people could find a running used one for as low as $150 NZD. Now that these days are long over, rail thin millennial hipsters drive Volkswagen Polo TDIs, thinking they're saving the environment.
"Dads and I were on the market for one of these. We got something better than this," Nakita said, pointing at Vanya. "You, my big brother!" The two embraced.
"But you secretly want one," Dieter pointed out.
"It's no secret. We all want a Samba, but we don't need it," I answered.
1992 Aluma Coupe — The Plymouth Prowler that should have been. It was designed by renowned car designer Boyd Coddington. He took a stab at designing a modern hot rod that would incorporate the technology, drivability, comfort and design of a modern car. The result is a stunning, sleek hot rod that can fool anyone into thinking it is from the 1930s. The body, suspension and chassis are completely bespoke. Rather than developing a bespoke engine or fitting a small block Chevrolet V8, Coddington did the most un-American thing imaginable. He had the Aluma Coupe fitted with the turbocharged 2,0 L straight-four engine from an old Mitsubishi Eclipse. The engine was tuned to produce 240 kW. What Coddington did was to prove that American engines sucked at the time. Well, okay, to be fair, this was long before the Chevrolet LS1 engine came out. Instead of this, people have to put up with the Prowler, which is basically a re-bodied Chrysler LHS.
"Oh! It's the hot rod from Home Improvement!" Nakita said excitedly.
"Bloody hell, it's really bright and stands out," Dieter exclaimed.
Vanya raised his eyebrows in surprise.
In a Home Improvement episode (S03E25), Bob Vila and Tim Allen drag raced in their hot rods. Vila drove the Aluma Coupe to victory.
1886 Benz Patent Motorwagen (replica) — The world's first impractical car. The three-wheeled horseless carriage was designed specifically to be powered by an internal combustion engine. Sitting at the back is a ½ kW 954 cc single-cylinder engine capable of propelling the trike up to a record-breaking 15 km/h. Well, in good road conditions, that is. A 20c coin on the road is essentially a land mine for the frangible car. The Patent Motorwagen doesn't need any of the duffs like suspension, seat belts, exhaust system, catalytic converter and so on. Who needs them? They're a nuisance! The trike has barely anything on its wood-on-steel construction. Despite being regarded as an ideal replacement to horse-drawn carriages, it can only seat two. Bench, levers, large petrol tank and horizontally oriented flywheel and engine take up all the space. Coffer? Leave it at the kerb. Overweight? Lose some weight. Kids? Tell them to walk home. Otherwise the Patent Motorwagen will barely move. Over the course of 7 years only 25 examples were built for testing purposes.
"It is top heavy. It must be scary to make a turn, even at 15 km/h," Nakita said.
"If I'm running late for school, I can just get out and run," Dieter said.
Vanya smirked at Dieter's remark..
Fleet of Ducati, Honda and pretentious Harley Davidson motorcycles on display. Nakita is an ardent lover of vintage German motorcycles. He expressed disappointment in the absence of German motorcycles on display.
"I saw and touched the one and only BMW R7 at the BMW Museum," Nakita said proudly. "The motorcycles here are nothing in comparison."
"Braggart," Dieter said, smirking.
Vanya pushed Nakita's head.
We all laughed.
1994 Bugatti EB 110 — Pure hopelessness on wheels. After four grisly concept cars (Exhibition A, Exhibition B, Exhibition C and Exhibition D) and countless failed attempts to revive the marque, the EB 110 was the first Bugatti to go into limited production. The EB 110 was designed by Bertone designer Marcello Gandini. It is evident he had trouble incorporating Bugatti's extravagant signature into a modern car. The Bugatti Typ 57 production was brought to an end in 1940. It would have been a painstaking process to design a modern Bugatti after a 50-year hiatus. Let alone a sports car, which Bugatti had never built before. Gandini slapped some design elements from other cars he designed together into what would become the EB 110. He threw on a tiny nonfunctional horseshoe grille and called it a day. It turned out to be adequate. Powering all four wheels is a 410 kW 3,5 L quad turbo V12. The EB 110 was given the green light for production. However, soon after Bugatti fired up its production machines, Europe and North America were hit by an economic recession. The market peaked only once when seven-time Formula 1 World Champion Michael Schumacher bought (and later crashed) an EB 110. It went downhill from there. The poor market forced the shareholder of Bugatti to file for bankruptcy. As a result, the production was brought to a screeching halt and all assets, including Lotus Cars, were liquidated. Only 139 hopeless cases were built.
Following the demise of Bugatti, its fate undoubtedly looked like this: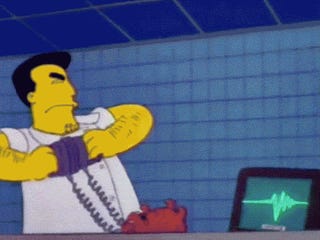 Volkswagen immediately plucked Bugatti's decomposing carcass from the burning skip. Now what's left of Bugatti's soul is spewing out even uglier cars for people with deep pockets who won't drive and maintain them. We can all agree that Bugatti is better off dead.
"I fancy these DTM style wheels," Nakita said. "That's the only thing I fancy about this car."
"I would take a [Lamborghini] Countach over this any day," Dieter said.
Vanya waved his hand dismissively.
1964 Porsche Carrera GTS (904) — Porsche on a diet. In order to reduce weight, Porsche underwent a massive disembowelling, ditching metal bodies and backbone chassis. The body is made of fibreglass, and it is built on a ladder chassis. The 904 is powered by a more powerful and complex version of the flat four engine found in the Typ 1. Yes, really, Porsche designed the engine for the Typ 1, and you can read all about it here. It has the capacity of 1,96 L that produces 148 kW. Porsche responded to a small demand for factory race cars by producing two versions of the 904: 904/6 with 1,99 L flat six engine derived from the Porsche 911 and tuned to produce 140 kW and 904/8 with 168 kW 1,62 L flat eight engine derived from the Porsche 804 Formula 1 race car. Only 108 examples were built altogether.
"Porsche sure is obsessed with weight reduction," Nakita noted.
"It's really different from the 356 and the 911," Dieter said. "I don't think it sold well."
Vanya shook his head dismissively.
1954 Mercedes-Benz W196 — The last Silver Arrow. Under the impression that the war would be brief, Daimler-Benz developed the next iteration of Grand Prix race cars for the 1940 season. After awakening and missing World War 2, they dusted off their W165s, replaced their 1940-spec V8 engines with inline-eight units and renamed them the W194 and then W196. The W196s entered what was now known as Formula 1. Formula 1 in the early 1950s was essentially Historic Formula 1 Championship featuring brand spanking new 12-15 year old race cars. The W196 is powered by a 190 kW 2,5 L inline-eight engine, which was considered obsolete at the time. Despite that, the boneshaker managed to dominate the field of ageing race cars. This W196 in particular was driven by five-time Formula 1 World Champion Juan Manuel Fangio. In 1955, Mercedes-Benz team chief Alfred Neubauer hired a zero-time Formula 1 World Champion Stirling Moss to drive one of the W196s.
"This is the most beautiful car here," Nakita announced.
"Didn't one of these crash into the crowd and burn to the ground for hours?" Dieter asked.
"That was a W196S 300SLR, a Le Mans race car," Nakita corrected. "This is a W196, a Formula 1 race car."
Vanya gave a look of pity.
"That's why Mercedes-Benz never raced in the Manufacturer Championship again until the turn of the 1990s," I said.
1955 Porsche Continental — Victim of sue-happy AMERICA! When Porsche literally brought the Typ 356 to TEAM AMERICA!, Max Hoffman, you know, Porsche's only 'MURICA! importer, like, literally persuaded them to rename the car. For the 1955 model year, USA! USA! USA!-imported Typ 356 was simply known as Continental, you know. Everything else, including the 55 kW 1,58 L flat four engine, was, like, literally totally the same. The Continental was, like, a big hit among celebrities in MAKE AMERICA GREAT AGAIN! Unfortunately, Ford, you know, automaker of the Lincoln Continental, was, like, mad. They literally sued the pants off of Porsche, you know, over the use of Continental name. For the 1956 and later model years, the Typ 356 was, like, literally renamed the Typ 356 A, Typ 356 B and then Typ 356 C for the global market. Exciting names, you know? AMERICA EFF YEAH!
(Vanya and Dieter heard a lot of people shout and talk like that during our visit in California. Scary.)
"What are these leather belts for?" Nakita asked curiously.
"These are old fasteners to secure the hood in place so it doesn't open at high speeds," I explained. "Old muscle cars have pins and metal wires."
"It would be brilliant if it had a brushed aluminium body," Dieter said.
Vanya nodded in agreement.
2011 Ford Fiesta ST — One of the causes of climate change. It was featured in Gymkhana 3. The Gymkhana series is all about releasing toxic rubber vapours in the air and further damaging the atmosphere. Now everyone is doing just that with their Craigslist petrol guzzlers. Climate change is your bloody fault. Any road, this literal oil burner was heavily modified to be driven in circles around a hipster on a Segway by a walking Mobil 1 billboard Ken Block. Yep, that's what all the hype was about. Powering all four badly bent and mismatched wheels is a tiny 2,0 L inline-four engine. Apparently Block needed 450 bloody kilowatt to do donuts on a wet surface. Over 60 million people drooled over the Gymkhana 3 video. I can't wrap my head around the absurdity of this bucket of bolts! I say we move on! Next!
"Drifting is bad, m'kay?" Nakita said, wagging his finger.
"Why hasn't the EPA told Kenny to stop?" Dieter asked.
"If he was stopped, wankers would put others in danger by drifting and doing burnouts and donuts on public roads in protest," I answered.
Vanya showed no interest, walking off to the next car, a Toyota 86.
1929 Bugatti Typ 41 'Royale' — France's Ford Excursion. At 6 m long and 3,200 kg heavy, the extravagantly luxurious handmade car is essentially a tank. It easily makes Rolls Royces and Bentleys of the late 1920s look half-arsed. The Typ 41 is highly innovative for the time. Its colossal 225 kW 12,7 L inline-eight engine is capable of propelling the 3,5 tonne car up to 200 km/h. Woo boy, imagine the ANCAP crash-testing this beast. It might destroy the strongest concrete wall. One could only request their Typ 41 to be built for a fortune, but the snobbery didn't stop there. The requests were personally handpicked by none other than Ettore Bugatti himself. It was advised to use the best manners. King Zog of Albania's request was rejected because Ettore expressed a dislike for his table manners. Only six examples were built and only three were delivered.
"You're drinking from a plain red Starbucks cup? Rejected!" Nakita said.
"You're not standing for the national anthem? Rejected!" Dieter said.
"Americans," Ivan said, sighing exasperatedly.
We all laughed.
There is an exhibition dedicated to an American artist Keith Haring. He was famously known for his participation in the underground art movement during the 1980s and 1990s. Subways in New York City (New York, USA) were plagued with provocative graffiti. Haring, among other artists, painted over them with discreet yet elegant pop art. Following the establishment of the Clean Train Movement and Haring's AIDS diagnosis in 1988; he drove his rolling canvas to raise awareness of AIDS/HIV. The exhibition focuses on the art on the cars and motorcycles themselves. There isn't any information on them, so I will leave them out. Enjoy the art.

Untitled, 1982 (1962 Mortarini Mini Ferrari 330 P2 Motorised Child's Automobile)
"Blimey, he used nothing but markers and his own imagination," Nakita said, impressed.
"Ferrari plus Troll Face equals Ferrari FF," Dieter said.
Vanya brought his palms close together and frowned.
"Our Rover Mini Cooper S deathtrap is a lot smaller," Ivan said proudly.
Untitled, 1983 (1971 Land Rover Series III 109) It was featured at the 1985 Montreux Jazz Festival in New York City.
"It reminds you of a Lada Niva, doesn't it?" Nakita asked Vanya and he nodded in agreement.
"Would you do something like this to your [Mercedes-Benz] G63?" Dieter asked.
"Ha-ha-ha, no," I answered.
Untitled, 1987 (1987 Honda CBR1000F Hurricane)

"Sport bikes would look so much better with a paint job like this," Nakita said.
"It's detailed," Dieter said, impressed.
Vanya nodded in approval.
Untitled, 1986 (1963 Buick Special)
"I don't know why, but it's relaxing to look at," Nakita said.
"Is it easy to paint like that?" Dieter asked curiously.
"Haring used what taggers called 'New York City mop'. Basically a shoe polish bottle filled with paint or ink," Ivan answered. "So yes, very easy but messy."
Vanya smirked menacingly.
"I know what you're thinking," I said. "You boys can learn the technique on a wall in our basement."
The boys exchanged a high five.
Untitled, 1990 (1990 BMW Z1)
"The car is ugly, but the art made up for it," Nakita said.
"He was only 31," Dieter noted. "What happened to him?"
"AIDS, a disease transmitted by means of direct contact," I answered. "There was no treatment at the time."
Vanya sighed sympathetically.
2017 Bugatti Chiron — The most overkill monument on wheels. Engineers put a lot of time, money and effort into researching and developing a car that will spend the vast majority of its time collecting dust. The Chiron's hysterical 1,120 kW 8,0 L quad turbo W16 just screams excessive. Oi, is your house seemingly empty? You can buy one today for a mere $3,53 million NZD and park it in your solarium. If you run out of storage space, you can use the car's derisory luggage compartment as a hamper for your dirty underwear.
"It must be fun to fill the tank every 12 minutes," Nakita said.
"Ettore is rolling in his grave," Dieter said.
Vanya pulled out his empty pockets.
We headed out to the famous Canter's Deli for lunch. There we agreed to grade the admittedly disappointing museum a C minus for the following reasons:
Complete absence of Russian and East European cars — Don't expect to find anything from Ostdeutschland, Russia, Czechoslovakia or Yugoslavia. This is the biggest letdown for Vanya.
Missed opportunities — The top floor of the old museum was set up for children to learn how cars work. Fun demonstrations and physics activities, see-through engines and transmissions and so on. It is now gone.
Broken and misleading website — The museum's website claims there are many more cars on permanent display and the vault (storage) is open. About half of the cars are on display and the vault tour is seasonal.

Inconvenient car park — On the ground level of the multi-storey car park, there are two lanes that move in the same direction. Parking has to be paid at a self-serving parking pay station near the museum's entrance. The flat rate still applies with a mobility parking permit.

Poor lighting — The museum is dimly lit and difficult to navigate. The lights in several galleries are automatically turned off without warning to display videos on walls. It is recommended to use a dedicated camera to take photos. The museum is too dark to use the camera on a mobile.